Wendy Shay announces new release date for her 'Enigma' EP
Award-winning musician, Wendy Shay, has announced a new release date for her much-anticipated 'Enigma' EP.
The original release date, as revealed earlier by the Rufftown Records-signed songstress, was Friday, October 21, 2022.
However, Rufftown Records and Wendy Shay have decided to push the release of the 'Enigma' EP to November 11, 2022.
Wendy Shay will release the first single off the EP on Friday, October 21, 2022, to tease her fans and give music lovers an insight into what they should expect on the full EP.
Wendy Shay has released two songs so far in 2022. 'Survivor', the first single she released in 2022, is a song that talks about how she survived a major heartbreak from her ex-lover and is without any doubt chalking a lot of successes ever since its release.
It has topped many music charts and recorded over 70 million total streams on various music streaming platforms, including the popular video viewing and sharing platform, YouTube.
Wendy Shay stepped up her A-game for the year with the release of the much-talked-about song titled 'Warning'.
The hot jam has fast become a street anthem for a lot of music lovers, especially ladies who associate with the lyrics Wendy Shay passionately sings about in the song.
Wendy Shay with Rufftown Records has a conviction that all their fans and music lovers across the world will be blown away when her first EP is finally released on November 11, 2022.

Okomfo Nana Agradaa Arrested; two TV stations showing 'mօnᥱy-dօubling r¡tuals' shut down [Video]
Mօnᥱy doubler and spiritualist, Dr Patience Asiedua, popularly known as Nana Agradaa, has been arrested.
Nana Agradaa, known for her moneymaking ritual, 'sika gari', was arrested by a joint team of Police and National Security Intelligence Operatives, in collaboration with the National Communications Authority on Tuesday night.
Two TV channels – Thunder TV and Ice1 TV – that allegedly broadcast money doubling content at Kasoa in the Central Region, were also shut down for operating without licenses.
The team seized two pieces of equipment each used in the alleged illegal transmission from both premises.
This was announced by the Minister for Communications and Digitalisation, Ursula Owusu-Ekuful on her social media page on Wednesday, April 21, 2021.
Information available suggests the TV channels owned by the self-styled traditional priestess have been operating without authorization for years leading to their closure.
The state's action follows recent concerns about the broadcasting of inappropriate content in the media space by persons parading themselves as spiritualists
It is on the heels of the gruesome killing of an 11-year-old boy allegedly by two teenagers for money ritual purposes.
Below is the Minister's full post:
"At about 2200hrs on 20/04/2021, a joint team of Police and National Security Intelligence Operatives, in collaboration with the National Communications Authority, stormed the premises of two satellite television stations, namely, Thunder TV and Ice1 TV, who were illegally transmitting without licenses, at Kasoa in the Central Region
The team arrested the offenders among which included the owner of Thunder TV, Patience Asiedua, popularly known as Nana Agradaa, and seized two (2) pieces of equipment each used in the illegal transmission from both premises. Nana Agradaa advertises her "Sika Gari" on her TV station, which she claims is her personal god that multiplies money with some rituals she makes. She has hence admitted to this illegality and is currently in custody assisting with further investigations.
The influx of unregulated television stations on air has led to the promotion of certain content which may affect public order, public morality, and the rights and reputation of others. As such, efforts are underway to rid the system of this canker and reduce overcrowding on Ghana's airwaves."
Credit: CitiNewsRoom
Ghanaian movies to watch on Netflix this weekend
From friendship to romance, to self-love and everything in between, love comes in many different ways. This weekend, you'll be able to enjoy the finest Ghanaian movies on Netflix, no matter what your status is, from Shirley Frimpong-Manso, Yvonne Nelson and Peter Sedufia, Leila Djansi, and others.
See what you can watch on Netflix this weekend in the list below.
Aloe Vera
Aloe Vera created a distinctive hue figure between two groups living within the same community but separated by a hem initiated by a long-standing historical dispute. love creeps but is it enough to transcend the line that separates them?
Cast: Nana Ama McBrown, Kofi Adjorlolo, Roselyn Ngisah, Priscilla Opoku Agyeman, Aaron Adatsi, Alexandra Ayirebi-Aquah, Benjamin Adaletey, Ngozi Viola Adikwu, Beverly Afaglo, Ben Affat, Fred Amugi, Kobina Amissah-Sam, Akorfa Ejeani Asiedu.
40 and Single look into the life of a bridal fashion designer as she struggles against prejudice in the city of Accra where race and colorism have significant colonial roots while pursuing her dreams, goal, and finding love.
Cast: Marie Humbert, Vanessa Williams, Adjetey Anang, Emefa Tsikata, Michelle Attoh, Rama Brew, Joselyn Dumas, John Dumelo
In an interesting drama, an expectant couple determined to give birth in a faraway town find themselves stranded after missing their train to get there.
Cast: Adjetey Anang, Lydia Forson, Fred Amugi, Jeneral Ntatia, Clemento Suarez, Joseph Otsiman
A divorced couple who were bent on flexing their egos and scoring points decide to cohabit in their ex-matrimonial home but realized that their scheme unravels emotions and inflames old wounds.
Cast: Joselyn Dumas, Chris Attoh, Nikki Samonas, Victoria Michaels, Adjetey Anang
The Perfect Picture: 10 Years Later
This is a drama sequel From Shirley Frimpong's Perfect Picture produced some decade ago, with a pinch of twist and intrigue. this sequel talks about three friends who are saddled with more issues in their not-so-fairy-tale relationships, flawed husbands to shaky finances, and romantic exploits that test a close circle of friends who must lean on one another.
Cast: Naa Ashorkor Doku-Mensah, Jackie Agyemang Appiah, Chris Attoh, Adjetey Anang, Lydia Forson, Beverlyn Naya, Richard Mofe Damijo, Gloria Osei Sarfo, KSM
Fate and faith determine the life story of three young ladies ix Us tells the story of three young ladies, bound by their common dream to be movie stars, and form a tight friendship soon after their dream is realized, they find out they want something more from life.
Cast: Yvonne Nelson, Yvonne Okoro, Irene Logan, David Prince Osei, Alexandra Amon, Jessica Williams, Michelle Attoh, Belinda Dzattah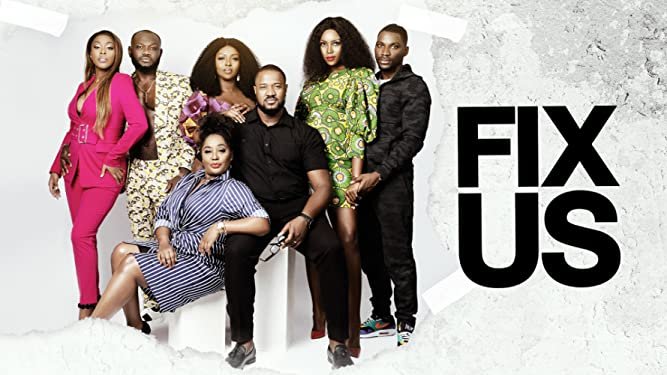 A 14-year-old girl sent away to evade an arranged marriage from Northern Ghana must endure life in the slums of Accra, and find a way to get back home.
Cast: Asana Alhassan, Adjetey Anang, Ama K. Abebrese, Akofa Edjeani Asiedu, Peter Ritchie, Mohammed Hafiz, Emmanuel Nii Adom Quaye.
An American volunteer teaching at a remote village in Ghana tries to fight religious and social traditions to save one of his promising students from sex slavery.
Cast: Irene Adotey, Ajetey Anang, David Dontoh, Jay Ellis, Yvonne Okoro, Luckie Lawson, Mawuli Semenyo, Brimah Watara, Miranda Bailey
This story directed by Peter Sedufia talks about three ladies who discovered that they can make a lot of money by exposing cheating husbands and boyfriends.
Cast: Nana Ama McBrown, Lydia Forson, Sika Osei, Aaron Adatsi, Beverly Afaglo, Stacy Afful, Akofa Aseidu, Rosemond Brown, Christabel Ekeh, Benard Nyarko
A couple can't seem to get to spend time with each other following the frequent trip of a husband, once they decided to while away and spend time together what follows is a tale of several twists, and turns that spills a can of worms and ultimately pulls each person in the emerging web of deceit.
Cast: Yvonne Nelson, Kunle Remi, Adjetey Anang, Isaac Akwesi Awonor, Kweku Elliot, Regina Van-Helvert
Esi recounts her childhood and the riotous relationship between her father, Kojo, and her uncle. Kojo goes missing on an illegal mining expedition with his uncle Kwabena, Esi embarks on a journey to rescue her father.
Cast: Joseph Otsiman, Kobina Amissah-Sam, Ama Abebrese, Cynthia Dankwa
Hopefully, the Ghanaian movie market will expand across other borders to showcase the heritage, culture, beauty, and creativity of its indigenous people.
Excite your weekend with these Ghanaian picks on Netflix.
What sounds are hot with Ghanaian Gen Zs right now?
Ghana's Gen Zs are energetic and motivated. They're also cosmopolitan, keen to better themselves, and as welcoming of international influences as local ones and those from the wider African continent.
That's true until the end of the day, when they're more willing to embrace their melancholy side. At least, that's the story told by their Spotify music and podcast listening tastes.
From a local music perspective,  Tema's very own rap and freestyle artist Kwesi Arthur rules the roost, followed by Highlife and Afrobeats singer-songwriter King Promise, with Sarkodie, Black Sherif, and Gyakie rounding out the top five most streamed local artists by Ghanaian Gen Zs.
The list of top artists meanwhile, has a much more American and Nigerian flavour with Burna Boy, Asake, Drake, and Lil Baby all claiming spots in the top five. It shouldn't be surprising then that Burna Boy also has two songs in the list of most streamed recordings, the megahits "Last Last" and "It's plenty". The top song, however, belongs to local artists Agbeshie and EpiqMenz with "Downtown Guy". Here too, though, Nigerian artists have a strong presence. Bandana by Asake and Fireboy DML and Overloading (OVERDOSE) by Ayra Starr, Boy Spyce, Crayon, LADIPOE, Magixx, and Mavins both feature in the top five most streamed tracks among Ghanaian Gen Zs.
When it comes to the most popular albums among Ghanaians aged between 18 and 25, , meanwhile, Burna Boy again tops the list with Love Damini. Fellow Nigerians Fireboy DML, with Playboy and Asake with Mr. Money With The Vibe take the next two slots in the top five. Rounding out the list of top albums are local offerings 5 star by King Promise and Son of Jacob by Kwesi Arthur.
Knowing all this, it shouldn't be too surprising that Rap, Afropop, Nigerian pop, Azontobeats, and Pop are the most heavily favoured genres among young Ghanaians. It also shouldn't be too surprising that the top five Spotify curated playlists in Ghana include African Heat, Hot Hits Ghana, Ghana Party, Afro Hits, and Afropop.
It's also interesting to take a look at the mood playlists the country's Gen Zs listen to throughout the day. During daylight hours, energy and motivation clearly play a big role.
In the early morning, for instance, their top three playlists are Morning Motivation, Wake Up Happy, and Mood Booster. The only deviation comes in the shape of the Villain Mode playlist, featuring tracks themed around heartbreak and being vengeful.
The upbeat theme picks back up later in the morning when Wake Up Happy is replaced by Confidence Boost. Energy Booster: Hip-Hop and Songs to Sing in the Shower round out the top five. In the afternoon and evening Feelin' Myself and Happy Hits! join the party.
Things take a more melancholy tone once the day draws to a close, however. The most listened-to mood playlists in the late evening and at night, include Sad Songs, Life Sucks, Sad Guitar Instrumentals, and Lowkey. There is still space for love though, with 100 Best African Love Songs, Goosebumps, and Chilled R&B proving popular.
Moving away from music and to podcasts, things have a more spiritual feel, especially when it comes to those produced locally. The top-rated local podcast, Sincerely Accra covers life in the capital, as does number five in the top five Stay By Plan. The second-most listened to local podcast CEYC Airport City Podcast is, however, religious as are number three and four, the Mensa Otabil Audio Podcast, and Pastor Agyemang Elvis.
These are just a few of the insights that Ghana's Gen Z listening tastes provide. One thing that should be clear is that, as their influence grows, they'll have an exciting role to play in shaping Ghana's future and that they're definitely up for it.